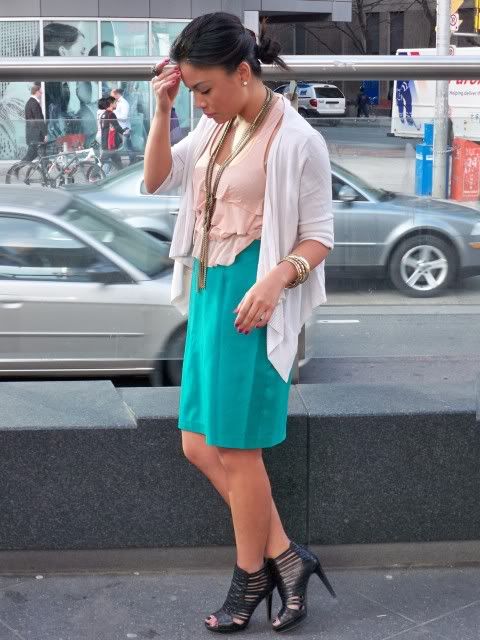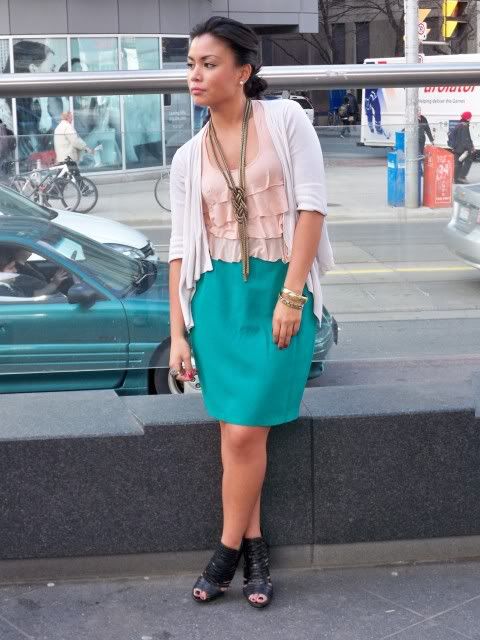 (urban planet peach layered tank, h&m cardigan, value village green skirt and zara shooties)
Today was the last day of my rubbish food intake that lasted for about a month! We had a bon voyage luncheon for our co-worker today as she is moving to NYC (soo jealous), and guess what was on the menu - pizza, soda and strawberry chocolate-mouse cake for dessert... can you please say YUMMY! It was very yummy, but I knew afterward that I would have to pay for it so after contemplating on whether I felt like going to the gym to work off the junk (I do this a lot with myself, lol), I finally went to the gym! Hooray to me!!!
I am also starting my detox tonight so let's see how long I can maintain this torture, LOL!
Wish me luck!!! :D
So continuing with my Spring-themed outfits, I thought the combination of these colours worked really well. By the way, I got this beautiful green skirt from where else, Value Village for $6! The colour really pops when paired with very soft and sweet colours such as my peach tank and off-white cardigan.